May. 06
2013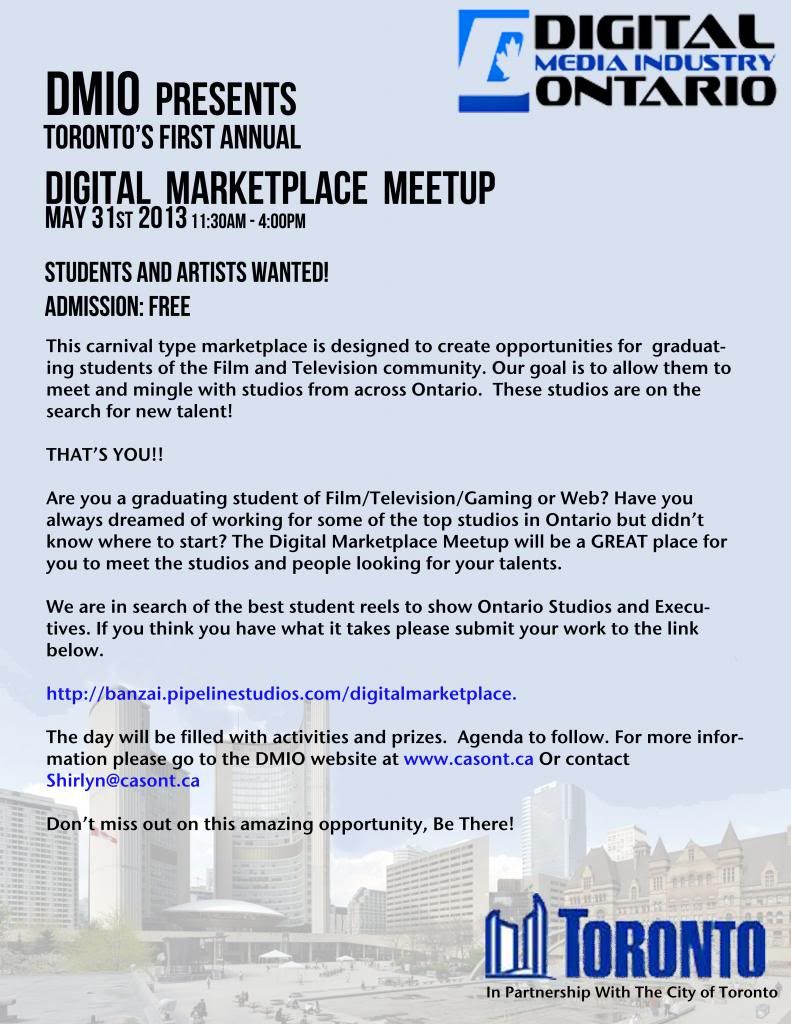 INDUSTRY PRIZE RAFFLE AT DMIO'S MARKET PLACE MEET UP!
DMIO is proud to announce a raffle with prizes sponsored by DELL, the OTTAWA ANIMATION INTERNATIONAL FESTIVAL & the City of Toronto for industry participants who attend the Market Place on May 31st. Stay tuned for the list of prizes.
INTERNSHIP JOB PRIZES FOR BEST STUDENT REEL
Three internship jobs will go to the lucky students whose reels win the most votes! Don't miss out on having your reel screened by the top Ontario studios & winning one of the most amazing internships ever. Upload your reels now HERE!

Apr. 10
2013

FORMERLY CASO
IN PARTNERSHIP WITH
THE CITY OF TORONTO FILM, TELEVISION AND DIGITAL MEDIA OFFICE
INVITES YOU TO PARTICIPATE IN
THE FIRST ANNUAL
DIGITAL MARKETPLACE "MEET UP"
MAY 31st, 2013
NATHAN PHILIPS SQUARE
This carnival type marketplace is designed to create opportunities for the Film and Television community graduating students, freelance creative artists and studios to meet and mingle from across Ontario.
We are inviting you to participate in this inaugural event
There is NO COST to attend this all day event filled with panel discussions, screenings and live music. Companies can sit in the VIP lounge and review student's work and students can sit in Toronto "Council Chambers" and view companies demo reels.
*Information regarding both studio and student uploading of reels will be published soon.
This is your opportunity for your studio to meet the community of artistic and technical talents that can help augment your team.
If you would like to purchase a booth to showcase your company, please fill in the attached form or visit our website at www@casont.ca.
For further information you may also contact Shirlyn Antonio at shirlyn@casont.ca.


Apr. 10
2013
MIFA is a key event for the world's animation industry. The 2012 edition of the show attracted participation by 2,500 delegates, 470 exhibitors and 290 international buyers from 63 countries. Among the international buyers / distributors were: France Télévisions, M6, cartoon Network and Canal + (France); ZDF (Germany); The Walt Disney Company (US); BBC (UK); RAI and MTV Italia (Italy), EBS (South Korea), RTBF (Belgium); NHK Enterprises (Japan); and Turner Broadcasting Systems Europe. The show is of interest to computer animation companies and companies along the computer animation value chain (animation software, digital media marketing, video gaming, visual effects).
CASO members/Ontario Companies will receive a private booth with logo and exhibition passes to the entire Film Festival and Market. FOR FREE!!!
For further information, please contact: victor.miranda@ontario.ca OR wes@houseofcool.com, jlopez@pipelinestudios.com
Feb. 27
2013
As you are aware from the past and recent news, it seems as if there is much confusion and tension surrounding visual effects globally, our contribution, compensation and recognition leading to a viable and stable companies.

As a result, we are planning a community meeting to discuss this topic on Friday, March 8th at 9:45 am. Venue is being verified based on attendees. Please email Shirlyn@casont.ca your attendance and next week she will send you the location details. I wanted you to save the date as this is an important topic for our industry worldwide.
It will be an informal discussion amongst peers to share ideas and information and formulate a strategy if possible to help us all through these strange and interesting times.
As a start I would like to share some information that Colin Davies and Pete Denomme shared with us..
http://www.fxguide.com/featured/blood-chrome-a-possible-vfx-future/
This is the basic problem with the industry... http://www.animationmagazine.net/vfx/vfx-community-reacts-to-ang-lees-oscar-speech/
Neishaw Ali
CASO President